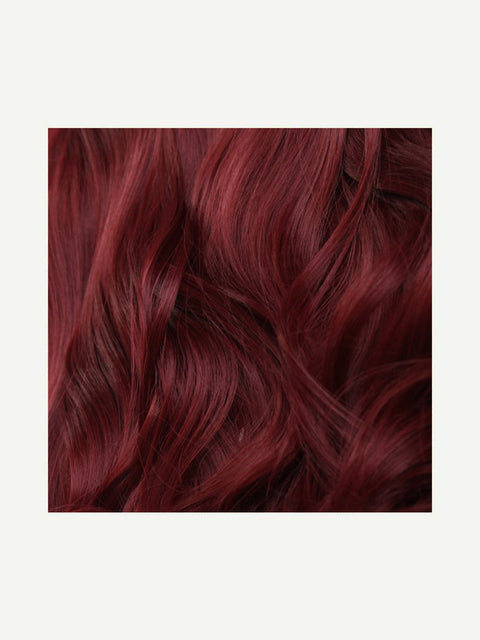 My Store
Burgundy # BU) / Tape In
Show more
Burgundy: This stunning shade, also known as Dark Wine, is a statement color that features warm purple-red undertones. Perfect for those who want to make a bold and dramatic statement, Burgundy adds depth and richness to your hair. With its intense and dramatic hue, this shade is a great way to add a pop of color to your look. Whether you're looking to add a touch of glamour or simply want to stand out from the crowd, Burgundy is a versatile shade that complements a variety of skin tones. So why not try something new and embrace your inner drama queen with this stunning and sultry shade?
Total Weight: 50g / 1.76 oz
Total Pieces: 20 per pack (each weft is 2.5g)
Length: 18"- 30"
Hair type: Virgin Hair
Product Info
Secret Tape In hair extensions are a permanent hair solution that creates length, thickness, style, and adds new colors to your natural hair (without using chemical coloring). Usually, 3 to 4 packs are needed to create a glamorous look. Our latest technology is the Secret Tape, a 3 cm width x 0.5 cm height tape that creates a seamless experience and provides comfort without damaging your natural hair.
Tape in hair extensions are reusable (up to 5 times) and can typically last between 6-8 weeks before you need to get them refitted. Made from the best hair quality, they can be washed, styled, and colored or simply worn dry on the go due to their natural texture. With Secret Tape In hair extensions, you can achieve your desired look with ease and confidence, while maintaining the length of your natural hair.
Application Method
Application Type: Professional Use
Application Time: 0.5 - 1.5 hours (7 min per pack)
Reapplication: 6-9 weeks
Life span: 2–3 years